Masters of Horror Volume 1 Mediabook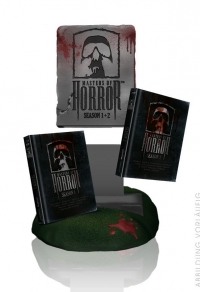 Blu-ray: Double Feature Mediabook
Fassung:
Blu-Ray Laufzeit:
740 + 732 min.
Tonspuren:
Deutsch, Englisch
Untertitel:
Deutsch
Extras:
auf 222 Stück limitierte Büsten Edition !

Staffel 1:

Incident On and Off a Mountain Road
Dreams in the witch house
Dance of the Dead
Jenifer
Chocolate
Homecoming
Deer Woman
Cigarette Burns
Fair Haired Child
Sick Girl
Pick Me Up
Haeckel?s Tale
Imprint

Staffel 2:

The Damned Thing
Family Psycho
The V Word
Sounds like
Pro Life
Pelts
Screwfly Solution
Valerie on the stairs
Right to Die
We all Scream for Ice Cream
The Black Cat
The Washingtonians
Dream Cruise

ca. 21,5 Stunden Extras

Bonus DVD als amaray Dream Cruise in der Langfassung !