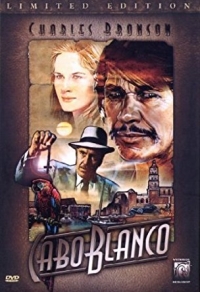 DVD: Limited Mediabook
| | |
| --- | --- |
| Label: | Mc One |
| Land: | Deutschland (2005) |
| Veröffentlichung: | 20.10.2005 |
| Rating: | FSK 16 |
| Limitierung: | 7777 Stk. |
| Regioncode: | 2 (Infos) |
Fassung:
DVD Laufzeit:
87:29 min.
Tonspuren:
Deutsch (Dolby Digital 2.0 Stereo) / Englisch (Dolby Digital 2.0 Stereo)
Untertitel:
keine
Extras:
Interaktives Menü mit Musik
Kapitelauswahl(8)

Making of "Caboblanco" [25:43 Min.]
(englisch DD1.0, optional deutsche UT)

Making of High Definition Restauration [3:36 Min.]
(ein paar Aufnahmen vom Studio, eine erklärende Texttafel in deutsch und die Aneinanderreihung von jeweils zwei nebeneinander dargestellten Filmsequenzen des Originals und des bearbeiteten Materials.)

Original Kinotrailer [2:41 Min.]

16-seitiges Booklet mit Kapitelindex und Filmografien der Mitwirkenden.