Alfred Hitchcock zeigt [TV-Serie] Mediabook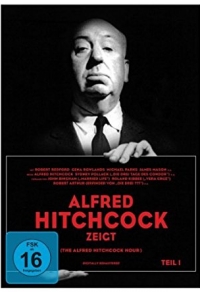 DVD: Limited Mediabook
| | |
| --- | --- |
| Label: | Koch Media |
| Land: | Deutschland (2008) |
| Veröffentlichung: | 23.05.2008 |
| Rating: | FSK 16 |
| Limitierung: | Keine oder Unbekannt |
| Regioncode: | 2 (Infos) |
Fassung:
DVD Laufzeit:
460:00 min.
Tonspuren:
Deutsch (Dolby Digital 2.0 Mono) / Englisch (Dolby Digital 2.0 Mono)
Untertitel:
Deutsch
Extras:
Deutsch synchronisiert:
1x04 - Der letzte Zeuge (I Saw the Whole Thing)
1x05 - Ein Mord wie er im Buche steht (Captive Audience)
1x11 - Die Rechnung ist fällig (Ride the Nightmare)
1x24 - Einer weiss mehr (The Star Juror)
1x28 - Die Strasse führt nach Dos Cucharos (Last Seen Wearing Blue Jeans)
2x06 - Der Mann von nebenan (Nothing Ever Happens in Linvale)
2x09 - Kobalt 60 (Dividing Wall)

OmU:
1x01 - A Piece of the Action (mit Robert Redford)
1x22 - Diagnosis: Danger (Regie: Sidney Pollack)
2x08 - The Cadaver (Story: Robert Arthur)

Die ARD hat seinerzeit nur 12 Episoden (gekürzt) synchronisieren lassen. 7 davon sind in dieser Box ungekürzt (teilweise OmU) enthalten, die verbliebenen 5 werden in einer 2. Box folgen.