Alfred Hitchcock zeigt [TV-Serie] Mediabook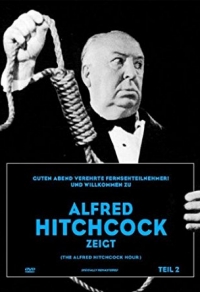 DVD: Limited Mediabook
| | |
| --- | --- |
| Label: | Koch Media |
| Land: | Deutschland (2008) |
| Veröffentlichung: | 29.08.2008 |
| Rating: | FSK 16 |
| Limitierung: | Keine oder Unbekannt |
| Regioncode: | 2 (Infos) |
Fassung:
DVD Laufzeit:
460:00 min.
Tonspuren:
Deutsch (Dolby Digital 2.0 Mono) / Englisch (Dolby Digital 2.0 Mono)
Untertitel:
Deutsch
Extras:
Deutsch synchronisiert:
2x15 - Der letzte Anruf (Night Caller)
2x19 - Alte Liebe rostet nicht (Murder Case)
2x32 - Wer anderen eine Grube gräbt (Body in the Barn)
3x18 - Die Falle (The Trap)
3x24 - Generalvollmacht (Power of Attorney)

OmU:
2x26 - Ten Minutes from Now (mit David Carradine)
2x27 - The Sign of Satan (mit Christopher Lee)
3x04 - The Lifework of Juan Diaz (Buch: Ray Bradbury)
3x17 - An unlocked Window (Klassiker!)
3x29 - Off Season (Regie: William Friedkin, Buch: Robert Bloch)

Die ARD hat seinerzeit nur 12 Episoden (gekürzt) synchronisieren lassen. 5 davon sind in dieser Box ungekürzt (teilweise OmU) enthalten, die anderen 7 sind bereits in der 1. Box erschienen.