Elvira - Herrscherin der Dunkelheit Mediabook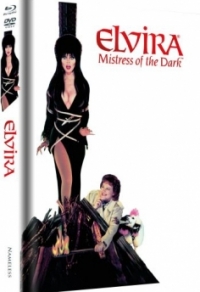 Blu-ray/DVD: Cover B
| | |
| --- | --- |
| Label: | Nameless Media |
| Land: | Deutschland (2018) |
| Veröffentlichung: | 21.05.2018 |
| Rating: | FSK 16 |
| Limitierung: | 444 Stk. |
| Regioncode: | B/2 (Infos) |
Fassung:
Blu-Ray Laufzeit:
96:13 min.
DVD Laufzeit:
93:48 min.
Tonspuren:
Deutsch , Englisch
Untertitel:
Deutsch , Englisch
Extras:
Einleitung zum Hauptfilm mit Regisseur James Signorelli.
Audio-Kommentar mit Cassandra Peterson, Edie McClurg und John Paragon.
Audio-Kommentar mit Regisseur James Signorelli, moderiert von FANGORIA Ur-Gestein Tony Timpone.
Audio-Kommentar von elviramistressofthedark.com Webmaster und Juror der US TV-Show SEARCH FOR THE NEXT ELVIRA Patterson Lundquist.
TOO MACABRE - The Making of ELVIRA, MOTD: 105 Minuten lange Making-of Dokumentation mit Cassandra Peterson und 16 Interviewgästen (Cast & Crew) über die Entstehung des Films. Mit nie gezeigtem Bildmaterial.
Archiv-Interview mit Cassandra Peterson 1988.
Making-of
RECIPE FOR TERROR - The Creation Of The Pot Monster: 14 minütige Featurette über Konzept und Design des Pot Monsters, sowie weitere SFX des Films.
Original US Trailer & Teaser zum ersten Mal in restauriertem 1080p HD3 NOCH NIE GEZEIGTE "Hinter den Kulissen Videos": 1. Mark Pierson erklärt das Macabre Mobile. 2. Eric Gardner führt eine Tour durch das Studio-Set des Films. 3. Eric Gardner spricht über die Pre-Production des Films.
Bally Pinball Video Tour zu den Geräten ELVIRA AND THE PARTY MONSTERS & SCARED STIFF.
Original Drehbuch.
Original US-Presseheft Slideshow mit internationalem Werbematerial zum Film.
Diverse Trailer uvm.