Das Ding aus einer anderen Welt Mediabook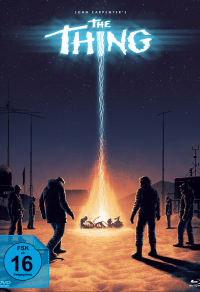 Blu-ray/DVD: Cover C
| | |
| --- | --- |
| Label: | Turbine Media |
| Land: | Deutschland (2019) |
| Veröffentlichung: | 05.12.2019 |
| Rating: | FSK 16 |
| Limitierung: | 1000 Stk. |
| Regioncode: | B/2 (Infos) |
Fassung:
Blu-Ray Laufzeit:
109 min.
DVD Laufzeit:
104 min.
Tonspuren:
Deutsch, Englisch
Untertitel:
Deutsch, Englisch
Extras:
Features*: Der Terror nimmt Gestalt an (ca. 86 Min.), Die Männer von Outpost 31 (HD, ca. 51 Min.), Die Effekte von THE THING (HD, ca. 25. Min.).
Neue Interviews* (mit dt UT in HD): John Carpenter (ca. 29 Min.), Cutter Todd Ramsay ca. 11 Min.), Romanautor Alan Dean Foster (ca. 16 Min.), Soundgestalter David Lewis Yewdall & Alan Howarth (ca. 15 Min.).
Archiv: "Fear on Film" - Gespräch mit John Carpenter, John Landis & David Cronenberg* (ca. 26 Min.), Storyboard-Film-Vergleich (HD, ca. 8 Min.), Nicht verwendete Szenen* (ca. 6 Min.), Trailers from Hell* (2x ca. 3 Min.), Promo-Clip-Tape* (ca. 13 Min.), US-TV-Version* (ca. 94 Min., 4:3), The Making of The Thing* (ca. 9 Min.), The Making of a Chilling Tale* (ca. 5 Min.), Hinter den Kulissen (ca. 2 Min.), Die Untertasse (ca. 2 Min.), Promo-Szenen-Tape (ca. 20 Min.), Umfangreiches Text- und Bild-Archiv (in engl. Sprache).