Witchboard - Die Hexenfalle Mediabook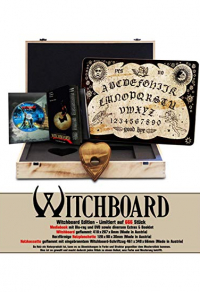 Blu-ray/DVD: Limited Collectors Edition
| | |
| --- | --- |
| Label: | NSM Records |
| Land: | Deutschland (2019) |
| Veröffentlichung: | 13.12.2019 |
| Rating: | FSK 16 |
| Limitierung: | 666 Stk. |
| Regioncode: | B/2 (Infos) |
Fassung:
Blu-Ray Laufzeit:
98:09 min.
DVD Laufzeit:
94:08 min.
Tonspuren:
Deutsch , Englisch
Untertitel:
Deutsch
Extras:
* 16-seitiges Booklet
* Audiokommentar mit dem Regisseur und den Produzenten
* Originaltrailer
* Deutscher ReCut-Trailer
* Making of
* On Set with the Makers
* On Set with Todd Allen und Stephen Nichols
* Life on the Set
* Constructing the World of Witchboard
* Cast Interviews
* Verpatzte Szenen
* Hinter den Kulissen
* Bildergalerie
* Promotion Bildergalerie
* TV-Spots
* DVD-Version

- Witchboard geflammt: 410x287x8mm (Made in Austria)
- Herzförmige Holzplanchette 120x98x30mm (Made in Austria)
- Holzkassette geflammt mit eingebrannten "Witchboard"-Schriftzug 461x348x66mm (Made in Austria)

Holz ist ein Naturprodukt da kann es zu Abweichungen in Farbe und Struktur gegenüber dem Musterstück kommen. Dies ist so gewollt und macht dadurch jedes Stück zu einem Unikat was Farbe und Musterung betrifft.